Crystals
are items used by
Warriors
to improve their
equipments
, which can include stat buffs and passive abilities. Crystals are added to an equipment's socket, which are shown as a small number surrounded by brackets after the equipment's name, like this
[1]
. Crystals can be created by a
Crafter
, dropped by
monsters
, or dropped by
explorer
events
. Some items, such as
Mechanical Hearts
 and
Galactic Slime
, can be equiped as crystals.
Adding Crystals
Crystals cannot be directly added to an equipment currently in use by Warriors, instead they are added to equipments from the inventory. First, select the equipment which have crystal sockets, this would appear as a number in square brackets. For example: A Cheshire Staff with 3 sockets would be named Cheshire Staff (100%) [3]. Then select the socket to add the crystal.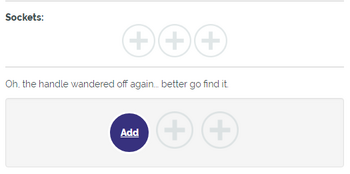 An equipment with 3 empty sockets.
To add a crystal to an equipment currently in use by a Warrior, simple unequip it and add the crystals to the equipment. Once that is done, reequip the item to the Warrior.
The confirmation window with a warning
It should be noted that crystals can not be retrieved once added. Replacing the crystal with another one will simply destroy the old crystal.

Types of Crystals
Different kinds of crystals can only be used by the corresponding type of equipment. For example: a shield crystal can only be used by shields. Currently, there are 5 types of crystals: Weapons, Utility, Rings, Armor, and Shields. Each type are also created with different templates, which are found in the Recycling Shop.
Current crystal templates:
Weapon Crystals
Shield Crystals
Armor Crystals
Ring Crystals
Utility Crystals